Taiwanese high power LED lighting company Aeon Lighting Technology (ALT) successfully debuted its first MR16 spotlight suitable for enclosed fixtures due to its advanced thermal technology and heat dissipation structure. The product has successfully passed UL testing standards and received UL certification.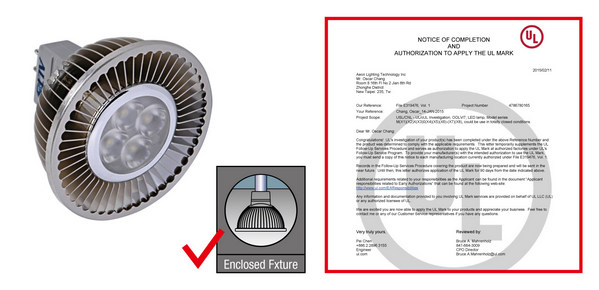 ALT's MR16 enclosed fixtures have been certified by UL. (ALT/LEDinside)
Commonly LED light bulbs are not recommended to go with enclosed fixtures because the air does not circulate well, which then causes the temperature inside the fixture to rise. This affects the heat dissipation, consequently shortening the bulb's life. Yet, ALTLED® MR16 (GX5.3 base) can be placed in enclosed fixtures and passed the test under fully enclosed environment. The temperatures of its solid capacitors and electric power components are within the normal operating range and the light bulbs can last up to 30,000 hours.
Traditional 50W halogen lamps have long been the solution as the light source for recessed or enclosed luminaires. However, they are not efficient for they consume a lot of energy and have a rather short lifespan. ALTLED® MR16 spotlight, on the other hand, is expected to enhance the quality of light for architectures and landscapes, and can even conserve 85% of energy.
ALT's heat sink design concept comes from its affiliated company, Super Micro Computer Inc., the fourth largest computer server distributor in the world. ALT uses pure aluminum cooling fins to dissipate the heat – this design can be seen on every ALT product. Baly Luo, ALT's General Manager, states that ALTLED® MR16's heat sink design is created with 48 pieces of pure aluminum fins with accurate and precise calculations. The gaps between the fins are just enough for the air to circulate and achieve the maximum surface area for heat transfer at the same time to reach thermal equilibrium within 30 minutes. Through actual tests, the temperature difference between ALT's aluminum substrate and heat sink is within 2 degrees Celsius whereas other companies' difference in temperature can go up to 18 degrees Celsius. The smaller the temperature difference it is between the substrate and heat sink, the more heat is being successfully conducted; which shows a higher efficiency. (As shown in the graph below)

A comparison between the efficiency of ALT and other manufacturers heat sinks, (ALT/LEDinside)
ALTLED® MR16 Spotlight (GX5.3 base) is suitable for fully enclosed fixtures and is already in mass production today. The various specifications from color temperature and beam angle to CRI and color brightness can all be custom-tailored to the needs of architects, lighting design companies, and even buyers with demands for high quality lighting.
Disclaimer:Content on this web is collected through LEDinside and do not represent the views and opinions of this site .Please notify if violated the original author's copyright and we will remove it immdiately.